Ready.
Sam Esmail On How 'Homecoming' Lingers; 'Mr. Robot' Season 4 Update & 'American Radical' Feature – Toronto Studio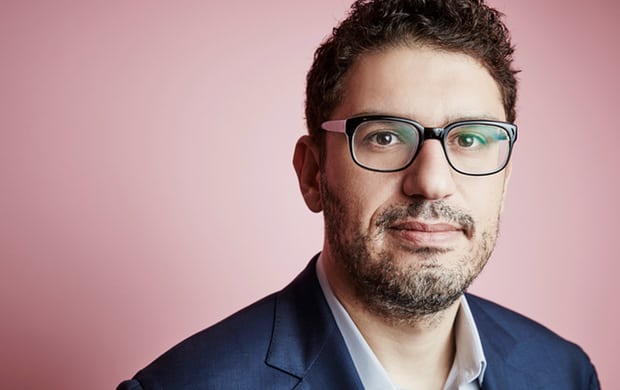 Having already broken the mold on televised serial noir with Mr. Robot, creator Sam Esmail delves back into the genre with his Amazon Prime/Universal Cable series Homecoming adapted from the podcast of the same name. The series streams Nov. 2 but recently premiered at the Toronto International Film Festival.
Esmail became addicted to the podcast by Eli Horowitz and Micah Bloomberg who are also co-creators on the series, and coincidentally Julia Roberts was a fan too with this story about a therapist (Roberts) in an experimental government facility who helps U.S. soldiers make the transition to civilian life. However, her boss played by Bobby Cannavale has ulterior motives in the soldiers' deprogramming. Flash-forward to 2022 and we see the whole experiment has gone sideways for Robert's Heidi Bergman: She's working at a rundown seafood restaurant.
After a third re-bingeing of the podcast Esmail realized there's something visual in Homecoming.
"I'm not in the business of adapting things that are popular for the sake of just getting it on the screen, I think there has to be a vital reason," he says.
While Homecoming reps a complete 180 for Roberts from her romantic comedy cinematic roots, landing her in the series was a cinch as she, together with Esmail, wanted to explore the character-driven Hitchcock and Alan Pakula influences of it all in Horowitz and Bloomberg's work; Roberts having appeared in Pakula's 1993 feature adaptation of the John Grisham novel The Pelican Brief. In a complete nod, Esmail, who directs all the episodes, opens and ends episode 2 with the score from Pakula's classic Jane Fonda-Donald Sutherland film Klute. 
"She brings this warmth that you can't duplicate, and if you don't have that, it's not something you can recreate," adds Esmail.
As opposed to Mr. Robot's 50-minute plus episodes, each Homecoming episode is roughly around 20-minute in length. Part of that is honoring the podcast's original structure, not to mention Esmail is a huge fan of half-hour dramas like The Girlfriend Experience and In Treatment. But mostly "I didn't want to step on the therapy scenes, I wanted to keep that intact" he says. In addition, there's "a lingering effect" to the podcast he says, and if you watch the show, the action continues as the credits roll; you have to truly watch Homecoming until its fade to black.
And with Esmail in Deadline's in-studio we couldn't avoid asking him about Mr. Robot season 4. Will Elliot Alderson live on after the series is over? "That would be a spoiler," said Esmail who passed on answering. He's sticking with his word description for season 4 –"Integration"– as opposed to season 3's "Disintegration".  Production for the USA series starts next year. Horowitz and Bloomberg are also breaking season 2 of Homecoming which Esmail also has in the hopper. As a refresher, because it's been a while, Mr. Robot season 3 left off with Elliot, his sister Darlene and FBI Agent DiPierro having no choice but to work with the ultimate nefarious hacker group The Dark Army after being cornered by them in a barn. Simultaneously, Elliot's friend Angela, who has been an insider raging against the evil E-Corp, learned that her father is actually the company's boss, Philip Price.
It was also announced over the summer that Esmail and Mr. Robot star Rami Malek will reteam on Universal's American Radical, a feature adaptation of Tamer Elnoury and Kevin Maurer's book American Radical: Inside the World of an Undercover Muslim FBI Agent. Esmail will direct and produce and Malek will headline. Esmail says that a search for a writer is underway; he'd like to write, but he's a busy guy. "We're trying to figure out the schedule on that."