Ready.
Inside 'Homecoming' Premiere With Julia Roberts, Sam Esmail and Breakout Stephan James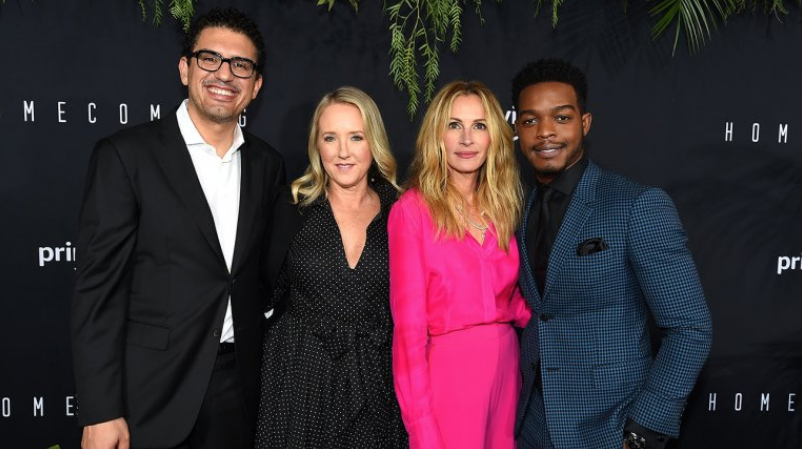 Julia Roberts stepped out along with 'Homecoming' colleagues Sam Esmail, Stephan James, Shea Whigham and longtime best friend Dermot Mulroney at the L.A. premiere of the Amazon series.
There was nothing robotic about Sam Esmail on Thursday night.
Standing on the black carpet outside the Regency Bruin Theatre in Westwood, the Homecoming executive producer and director of all 10 episodes of the forthcoming Amazon series was clearly emotional — in a good way — when he admitted with a wide smile that he'd never actually done this before. You know, the whole premiere thing. Like, ever.
"I don't think we ever had one for Mr. Robot," revealed the 41-year-old, referencing his USA Network creation, which is currently being prepped for a fourth and final season. To clarify, however, Homecoming had its world premiere in September as part of the Toronto International Film Festival, so Esmail was stoked to have his first Los Angeles premiere outing, a major event in his own backyard. "So, this is great," he said scanning his surroundings, which had all the accoutrements to make it feel like an old-school Hollywood premiere.
There were live fish tanks and a live palm wall, details that would make sense to anyone who has listened to the Micah Bloomberg and Eli Horowitz-created podcast on which the series is based. And there was a major movie star making the rounds, too. Julia Roberts, unmissable in a hot pink silk blouse and matching pants by Brandon Maxwell, Stuart Weitzman nude sandals and layered necklaces by Melinda Maria, also kept showing her teeth courtesy of that iconic smile, clearly happy to be there in support of her first TV series ever. Roberts also serves as executive producer of the show which finds her as Heidi Bergman, a caseworker at the Homecoming Transitional Support Center, a Geist Group facility which aids soldiers in their transition to civilian life.
It was a night of firsts all around.
"It's been weird and surreal for so long that tonight feels like another fantasy land thing that's happening," explained Horowitz of the event to celebrate their series, which marks the duo's first TV production, one that led to an overall deal with Universal Cable Productions. The podcast garnered plenty of famous fans but seeing actual fans lining the Westwood sidewalks ahead of the series Nov. 2 premiere of Amazon Prime Video proved to be a pinch-me moment. "We knew that people were liking it kind of early, but each thing happened step by step even though we had a healthy skepticism about each step. But the coin kept coming up heads — one lucky break after another. Tonight is the moment that it's for real." (For the record, Horowitz says he's digging NBA podcasts at the moment while his partner Bloomberg lists the political burner Slow Burn as favorite podcasts of the moment.)
Also real: The off-set friendship between Esmail and his leading lady Roberts. "We're friends now," Esmail notes. "That's so surreal. … On paper, I don't know that we look like we're friend material but we ended up clicking right away."
Same for Roberts and co-star Stephan James who goes toe-to-toe with the actress by playing one of the soldiers. "What an incredible actress to sit across from and share all this work with," he told THR. "More importantly, she's just an incredible person; a personable person. People always ask me if I felt nervous working with her and honestly, I didn't. She was so loving, so welcoming, so warm. Very, very easy to work with."
Speaking of the work, the early reviews for Homecoming are raves. Writes THR's Tim Goodman: Amazon really has something here. Homecoming is intriguing as a story, and the self-aware visuals and odd little touches that you'll discover going forward are fun — while at the same time you never lose the sense that something really menacing is about to unfold."
After the premiere screening which featured the first four episodes, the rest of the night unfolded like this: Guests headed to an immersive afterparty inside a custom buildout in a parking lot behind the theater designed to look like the Homecoming Transitional Support Center via real props and set pieces from production. Revelers — including acting talent like Tory Kittles, Lucien Laviscount, Sarunas Jackson, Emmanuel Kabongo and CAA's Kevin Huvane — picked up plates with gnocci, filet mignon skewers, chicken tacos, and poke bowls in addition to themed desserts such as pineapple Dole whip.
Cast members like Dermot Mulroney and Shea Whigham also made the rounds as did Roberts, who had an easy time picking her favorite day on set.
"Every day," she said with a smile. "But honestly, there was a day when we had a [one take scene] and I thought, will we be able to accomplish this? And we did it in I think four or five takes."
Esmail did more than a few takes working his way through the party and posing with friends, colleagues and members of the Homecoming staff and crew. For a first L.A. premiere, he looked to be enjoying every minute.
"This is cool," he said with a laugh. "I'm into it."