Ready.
Homecoming EP Sam Esmail on That Final Scene, His 'Instant Friendship' With Julia Roberts and Season 2 Hints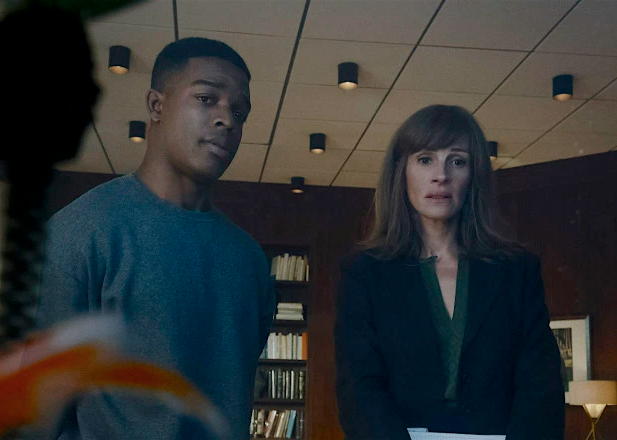 Warning: This post contains major spoilers for Season 1 of Amazon's Homecoming. Unless you have a plate of memory-erasing gnocchi nearby, proceed with caution.
Amazon's thriller Homecoming messed with our minds all season long… but the final scene just about broke our hearts.
The freshman season ended with Julia Roberts' Heidi tracking down her favorite client Walter Cruz to a remote California mountain town, clutching a road map she thought might jog his memories of their time together. But when she ran into him at a local diner, and saw how happy he was, she hid the map from sight during their quick chat and didn't mention they knew each other. After he left, though, she noticed he repositioned a fork on the table, just like he did with her pen during their Homecoming therapy sessions. So is the old Walter in there somewhere?
That final scene was intentionally left ambiguous, as "kind of a Choose Your Own Adventure," executive producer Sam Esmail, who directed all 10 episodes, tells TVLine, adding: "It will hopefully inspire conversation." As for why Heidi didn't show Walter the map, Esmail points to the earlier scene with Walter's mom Gloria, where she told Heidi her son was happier not knowing and starting over fresh: "When she finally faced him, I think she saw what his mother meant by that, and it hits her."
Off-screen, Esmail and Roberts hit it off immediately, he says, forming an "instant friendship, right off the bat." They bonded over the filmmaking influences the director planned to bring to Homecoming — "Hitchcock, DePalma and Alan J. Pakula, who she worked with on The Pelican Brief" — and spoke about "how this was really going to be like playing two different people, because of how different the two Heidis are in those timelines. I think that's the part that really excited her." As a character, Heidi is "really kind of low-key in both timelines," Esmail notes, but Roberts has a natural radiance that's hard to dim: "No matter what you do to her, she's just going to bring this presence."
Homecoming breaks convention by unspooling its mystery in half-hour episodes — still a rarity for TV dramas. In the podcast on which the show is based, the episodes are about 30 minutes long, Esmail points out, but "everyone just assumed that we were going to adopt this into an hour-long episodic drama… and I sort of just hit the brakes and said, 'Wait, why are we doing that?' There's no rule that a drama has to be an hour." The shorter length helps to sustain "the tension between Walter and Heidi" in their therapy scenes, the EP adds, recalling another "great" show that followed that format: HBO's In Treatment. "It was basically one therapy session every episode… two people talking in a room. I've got to assume that part of the reason why they made it a half-hour drama was because they knew it was a better runtime for those kinds of scenes."
As for Season 2 (already ordered by Amazon), Esmail is tight-lipped: "I can tell you we're in the middle of the writers' room right now. We are working." (It's not yet confirmed if Roberts or any of the other cast members will return.) But he does point to the season finale's post-credits scene, with Hong Chau's corporate climber Audrey rubbing an experimental medication on her wrists to calm herself, as "a hint of things to come in Season 2."