Ready.
A comprehensive list of all the songs played in Homecoming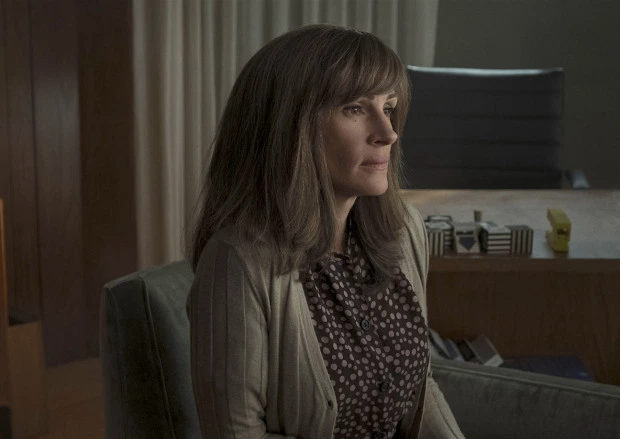 Homecoming presents a captivating mystery, aided by an unnerving, sometimes jarring score. Across its 10 extremely bingeable episodes, Homecoming's music is borrowed from some 45 film scores, lending their own historical and emotional resonance to a show that traffics in forgetting and remembering the past. And while some songs are instantly recognizable, more are just tantalizingly familiar, the tip-of-the-tongue phenomenon hitting viewers at every turn. It works well for Homecoming, but can lead to some maddening Google searching. To avoid that tedium, we've asked Amazon for all the songs played in each episode, and listed them below.
Most of them are heard in classics from '70s and early '80s, especially films dealing in paranoia, conspiracy, and mystery. There are songs from all three of Alan Pakula's "paranoia trilogy," for example (Klute, All The President's Men, and The Parallax View), as well as composers whose work reappears throughout Homecoming's run: Michael Small composed The Parallax View, Star Chamber, and Marathon Man, and David Lee Shire composed The Conversation, All The President's Men, and Taking Of Pelham One Two Three. All of those films—plus a lot of John Carpenter and many, many more—show up at some point in Homecoming's musically rich run. We've put together a full list of films whose soundtracks are used at the bottom of the article, and although a lot of the songs used aren't available on Spotify, we've rounded up all the ones that are into a playlist.
Songs in episode one ("Mandatory")
"Bathroom Terror" from Marathon Man
"Diamonds Of Death" from Marathon Man
"Un Bel Di Vedremo" from Madame Butterfly
"Main Title/Alternate" from Marathon Man
"Marathon Man/Main Title" from Marathon Man
"Nightmare Of The Past" from Marathon Man
"The Creep List" from All The President's Men
"The Shower" from Dressed To Kill
"The Streets" from Vertigo
Songs in episode two ("Pineapple")
"Among My Souvenirs" by Edgar Leslie (1927)
"Atmospheres" by Gyorgy Ligeti (1961) (featured in 2001: A Space Odyssey)
"Bygones Be Bygones" from The Gift
"Danny McDonald" from The Gift
"Down The Alley (Waiting In The Loft)" from Klute
"Hands On Fence (The Watcher)" from Klute
"On The Roof (Rooftop Intruder)" from Klute
"Studying Drivers" from Duel
Songs in episode three ("Optics")
"Abort 1" from Capricorn One
"Abraham's Theme" from Chariots Of Fire by Vangelis
"Dawson Tried" from Star Chamber
"Break Out" from Capricorn One
"Docking" from Capricorn One
"Flare No. 1" from Capricorn One
"Leveling Off"/"Visual Inspection Of Hatch"/"Gate's Sacrifice" from Gray Lady Down
"Hardin" from Star Chamber
"Heaven Scent" by Ralph Allwood
"Hex" from Andromeda Strain
"Main Title" from Star Chamber
"Mars" from Capricorn One
"Pleasure Seekers" by Terry Cox (1982)
"Rescue" from Star Chamber
"Shafts Of Light" from Star Chamber
"The Car (Main Title)"/"Sheriff Killed"/"Dead Girl Found"/"Barrel Roll"/"Run"/"Ray's Pursuit" from The Car
"The Long Climb/Flare No. 2" from Capricorn One
"The Message" from Capricorn One
"To Bru From Kay" from Capricorn One
"Torn Horn" by Stephen Gibson, Aaron Gilbert, Peter Oxendale, and David Luke Walters
"Warehouse Run" from Star Chamber
"We Have Landed" from Capricorn One
"Wildfire" from Andromeda Strain
"Your Taxi" by Dion, Raphael Lake, and Aaron Levy
Songs in episode four ("Redwood")
"Bucket Of Blood" from Carrie
"End Title" from The Hand
"Klaatu" from The Day The Earth Stood Still
"La Mer Recommencee" from L'Apocalypse Des Animaux by Vangelis
Clip from Piano Concerto II by György Ligeti
"Pig Eyes/Carolyn/Town Hall/The Phone" from The Amityville Horror
"Smooth Jazz Genius" by Benjamin Siegel Reid
"The Piedmont Elegy" from Andromeda Strain
"The Wind" from The Amityville Horror
Songs in episode five ("Helping")
"Blue Green Talk" from The Taking Of Pelham One Two Three
"End Title" from The French Connection
"Ghosts And All" by Sarah Davachi
"No Carol For Wooten" from Narrow Margin
"Romero And The President" from Escape From New York
"Solitude" from The Thing
"Telescope" from Body Double
"The End Of The Day" from The Conversation
Songs in episode six ("Toys")
"A Struggle For Survival" from Creation
"Cine-Camera Cinema" from High-Rise
"Copycat" from Copycat
"Genesis Ch. 1 V. 32" by The Alan Parsons Project
"Alone" by Heart
"Life And Death Introspection" from Three Days Of The Condor
"Scanner Duel" from Scanners
"Silent Corridors" from High-Rise
"So Very Much In Love" by Philip Moody and Doris Pony Sherrell
"Sweet Rapture" by a film Christian Henson scored, not sure which one
"The Circle Of Women" from High-Rise
"Cat And Louse"/"Broom's Doom"/"The Gypsy" from The List of Adrian Messenger
Songs in episode seven ("Test")
"Gunmen Search" from The Parallax View
"First Chase"/"Close/Open" from Halloween III
"Leveling Off" from Gray Lady Down
"Pop It Open" from The Andromeda Strain (TV series)
"Regeneration" from Christine
"Revenge" from The Fog
"The Fog" from The Fog
"The Fog Enters Town" from The Fog
"Shape"/"Contamination"/"Humanity (Part 2)" from The Thing
"You Ain't Seen Nothin Yet" by Charles Spencer (what Sissy Spacek's character listens to on vinyl)
Songs in episode eight ("Protocol")
"Amy's Theme" from The Conversation
"Final Transformation" from Altered States
"Final/End Credits" from The Conversation
"The Confessional" from The Conversation
"Primeval Landscape (In The Isolation Chamber)" from Altered States
"The Fog Enters Town" from The Fog
"The Fog Rolls In" from The Fog
"Warming Sun" by Anselm Kreuzer and Markus Segschneider
"Desert Trip"/"Hex"/"Strobe Crystal Green" from The Andromeda Strain
"Challis Escape" from Halloween III
"Regeneration"/"Jukins"/"Show Me" from Christine
Songs in episode nine ("Work")
"Head"/"The Breakers"/"Kill For Pussy" from Body Heat
"Coming Back To You" by Leonard Cohen
"Akira"/"La Poesia In Latino"/"Il Fiore del Silenzio" from Dove Siete? Io Sono Qui (Where Are You? I'm Here)
"Father Against Cain" from Raising Cain
"Keyboard Suite No. 1 In B-Flat Major, HWV 434 – IV. Minuet" by George Frideric Handel
"To Deep Throat" from All The President's Men
"Keyboard Suite In D Minor, HWV 437: III. Sarabande" by George Frideric Handel (theme of Barry Lyndon)
"Unicorn Theme"/ "Opening" / "Blue Room" from Legend (by Tangerine Dream)
"Undimmed By Time, Unbound By Death"/"Jack's Dream"/"You Can't Save Her" from Oblivion
"The Eiger"/"The Icy Ascent" from The Eiger Sanction
"The Trapeze Swinger" by Iron & Wine
Songs in episode 10 ("Stop")
"Reve" from Opera Sauvage by Vangelis
"Alone"/"Coma"/"Rally – Meet your Local Candidate"/"Realisation – Destiny" from The Dead Zone
"Drowning Vision – Through The Ice" from The Dead Zone
"Tremendous Dynamite" by Eels
All the films:
The Day The Earth Stood Still (1951)
Vertigo (1958)
The List Of Adrian Messenger (1963)
2001: A Space Odyssey (1968—orchestral arrangement reused)
Klute (1971)
Duel (1971)
Capricorn One (1971)
The Andromeda Strain (1971)
The French Connection (1971)
The Taking Of Pelham One Two Three (1974)
The Conversation (1974)
The Parallax View (1974)
Barry Lyndon (1975—orchestral arrangement reused)
The Eiger Sanction (1975)
Three Days Of The Condor (1975)
Marathon Man (1976)
Carrie (1976)
All The President's Men (1976)
The Car (1977)
Gray Lady Down (1978)
The Amityville Horror (1979)
Altered States (1980)
Dressed To Kill (1980)
The Fog (1980)
Escape From New York (1981)
Scanners (1981)
The Thing (1982)
Halloween III (1982)
The Hand (1981)
Chariots Of Fire (1981)
Body Heat (1981)
The Dead Zone (1983)
Star Chamber (1983)
Christine (1983)
Body Double (1984)
Legend (1985)
Narrow Margin (1990)
Raising Cain (1992)
Dove Siete? Io Sono Qui (Where Are You? I'm Here) (1993)
Copycat (1995)
Creation (2009)
Oblivion (2013)
The Gift (2015)
High-Rise (2015)